We are pleased to work with a broad range of exceptional institutions throughout the country, including:
UNIVERSITIES
Arcadia University – Glenside, Pa.
A.T. Still University – Kirksville, Mo.
Bowie State University – Bowie, Md.
Caldwell University – Caldwell, N.J.
Dominican University of California – San Rafael, Calif.
Edgewood College – Madison, Wis.
Felician University – Rutherford, N.J.
Georgian Court University – Lakewood, N.J.
Hodges University – Naples, Fla.
Holy Family University – Philadelphia
Indiana Institute of Technology – Fort Wayne, Ind.
Loyola University Maryland – Baltimore
Marian University – Fond Du Lac, Wis.
Marywood University – Scranton, Pa.
McMaster University – Hamilton, Ontario
Midwestern State University – Wichita Falls, Texas
Mount St. Mary's University – Emmitsburg, Md.
Niagara University – Niagara University, N.Y.
Palo Alto University – Palo Alto, Calif.
San Francisco State University – San Francisco
St. Gregory's University – Tulsa, Okla.
Texas Woman's University – Denton, Texas
University of Mary – Bismarck, N.D.
University of Maryland School of Medicine – Baltimore
University of Michigan College of Literature, Science, and the Arts – Ann Arbor, Mich.
Viterbo University – La Crosse, Wis.
Washington Adventist University – Takoma Park, Md.
Wittenberg University – Springfield, Ohio
Xavier University of Louisiana – New Orleans
COLLEGES
Assumption College – Worcester, Mass.
Beacon College – Leesburg, Fla.
Chestnut Hill College – Philadelphia
The College of Saint Rose – Albany, N.Y.
College of St. Scholastica – Duluth, Minn.
Cottey College – Nevada, Mo.
Defiance College – Defiance, Ohio
Emmanuel College – Franklin Springs, Ga.
Goucher College – Towson, Md.
Hamilton College – Clinton, N.Y.
Keystone College – LaPlume, Pa.
Life Chiropractic College West – Hayward, Calif.
Marymount Manhattan College – New York City, N.Y.
Molloy College – New York City, N.Y.
Presentation College – Aberdeen, S.D.
Principia – St. Louis, Mo.
St. Anselm College – Manchester, N.H.
St. Mary's College Notre Dame, Indiana – Notre Dame, Ind.
St. Norbert College – De Pere, Wis.
Villa Maria College – Buffalo, N.Y.
Walsh College – Troy, Mich.
Wartburg College – Waverly, Iowa
Wisconsin Lutheran College – Milwaukee, Wis.
Wittenberg University – Springfield, Ohio
SECONDARY SCHOOLS
Baltimore Leadership School for Young Women – Baltimore
The John Carroll School – Bel Air, Md.
Mercy High School Baltimore – Baltimore
Sisters Academy of Baltimore – Baltimore
HEALTH CARE ORGANIZATIONS
MedStar Georgetown University Hospital – Washington, D.C.
MedStar Health Philanthropy – Columbia, Md.
University of Maryland St. Joseph Medical Center – Towson, Md.
NONPROFIT ORGANIZATIONS
Association of Catholic College & Universities (ACCU) – Washington, D.C.
The Center Club – Baltimore
Central Baptist Theological Seminary – Plymouth, Minn.
Connecticut Council for Philanthropy – Hartford, Conn.
International Leadership Association – Silver Spring, Md.
Ladew Topiary Gardens – Monkton, Md.
NAIC (National Association of Insurance Commissioners) – Washington, D.C. | Kansas City, Mo.
NIPR (National Insurance Producer Registry) – Kansas City, Mo.
Sand County Foundation – Madison, Wis.
United Philanthropy Forum – Washington, D.C.
Vegan World – Baltimore
Viewpoints – Baltimore
PROFESSIONAL CONSULTING PARTNERSHIPS
Baker Tilly
Pennsylvania's State System of Higher Education
Mintz Law Firm, Boston, Mass.
Pearl Meyer, New York, N.Y.  |  Yaffe & Company, Towson, Md.
East Texas Baptist University – Marshall, Texas
Fairleigh Dickinson University – Teaneck, N.J.
Lewis University – Romeoville, Ill.
Madonna University – Livonia, Mich.
Mount St. Joseph University – Cincinnati, Ohio
St. Mary's University of Minnesota – Winona, Minn.
Hood College – Frederick, Md.
Illinois College – Jacksonville, lll.
Wilson College – Chambersburg, Pa.
Dream Center Education Holdings – Pittsburgh
CASE STUDIES

Emmanuel College, Franklin Springs, Ga.
Emmanuel College needed a comprehensive assessment of how it could strengthen the college. Emmanuel chose MPK&D for our breadth of experience with higher education, nonprofits and the private sector. Emmanuel's president, Ron White, praises the founding partners: "They have all had such long careers, and each in different fields, that they can speak to their own experiences when tackling various problems. They don't just theoretically suggest an idea will work, they know it will because they've actually done it."
MPK&D assisted with enrollment, fundraising, academic efficiencies and effectiveness, student development, budgeting and forecasting, and projection models. Emmanuel walked away with a master list of 50–60 recommendations, including who was responsible for each, the deadline to get started, and how to measure progress. According to White, "In just a short amount of time, we've already seen tremendous improvements and successes."

NIPR, Kansas City, Mo.
The National Insurance Producer Registry is a is a not-for-profit affiliate of the National Association of Insurance Commissioners (NAIC). Largely a technology company, NIPR streamlines the insurance producer-licensing process throughout the U.S.
MPK&D initially worked with this national organization to assist in Board development. The scope of work expanded to creating the organization's first strategic communications plan, leading the 6-month process for NIPR 2020: Focused on the Future, the strategic plan for 2018–2021, and ongoing communications and leadership development.
CEO Karen Hornig notes, "Working with MPK&D has been a very positive experience. We have appreciated the opportunity to work with a group that is practical and highly responsive. MPK&D uses streamlined processes and were able to develop a work product very quickly."

MSU Texas, Wichita Falls, Texas
Midwestern State University's new president, Dr. Suzanne Shipley, initially engaged MPK&D  to conduct an assessment/audit of the university's advancement operations and then to assist with onboarding the new vice president for university advancement and public affairs.
Since then, MPK&D has provided ongoing philanthropy/marketing counsel to executive leadership, developed campaign branding and identity, designed and produced the case for support, provided comprehensive campaign counsel and assisted public relations and marketing staff.
Dr. Shipley: "MPK&D provides a hand-crafted approach to fundraising. It's like a hand-tailored suit that fits perfectly. Their work is based on best practice, yet it looks and sounds authentically MSU Texas all the time."
Vice president for advancement Tony Vidmar adds, "MPK&D is visionary and assertive but not aggressive. Where bigger firms are not as accommodating, MPK&D is incredibly responsive and, because they know us so well, can give immediate feedback and advice."
Outcome:  three years into a six year, $50 million campaign, MSU Texas has raised $62 million.

Georgian Court University, Lakewood, N.J.
"Having an executive coach is not common in academics, but it is very common in business," according to the president of Georgian Court University. A few months into his presidency, Dr. Joe Marbach identified the right executive coach for him at MPK&D. He was looking for a firm with higher education experience in student affairs and advancement, since he had not personally worked in those areas.
"No one is ever fully prepared to be a president," Marbach says. MPK&D helped Marbach to assess his cabinet and also worked with some student groups to help him understand the culture of Georgian Court.
MPK&D led a focus group of a cross section of students, determined areas of satisfaction, why they came to Georgian Court, and other important issues for students.
Marbach found the confidential working relationship with MPK&D especially helpful in his new role.

Holy Family University, Philadelphia
When Sister Maureen Garrity became president of Holy Family, she knew quite a lot about the university, having been there in one capacity or another since she started as a biology faculty member in 1976. But as a new president, she knew identifying an advisor made a lot of sense. At first, she worked with MPK&D to shape strategic direction for the university, select and work with vice presidents and identify priorities.
Soon this expanded to working with the Board of Trustees on everything from financial aid and tuition decisions to programs and consortiums. "[MPK&D] really has helped to educate, focus and provide alternatives, and guide us through the consideration and evaluation of those alternatives," Sister Maureen says.
Next, MPK&D was asked to review the university's advancement function and help to identify a new vice president. "[MPK&D] came right into the trenches. Conducted workshops for our staff. Found out about them. She educated them. They needed a lot of basic education in areas where we were vulnerable and inadequate," according to Sister.
MPK&D is working with the Holy Family team to develop a new strategic plan to guide the institution through the next five years of growth and innovation.

United Philanthropy Forum, Washington, D.C.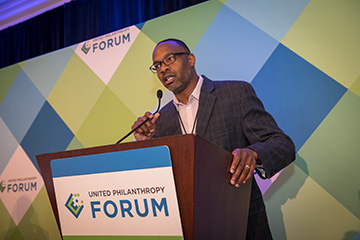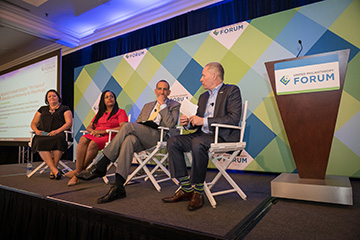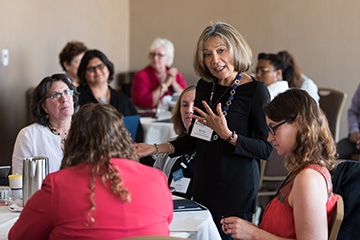 The Forum of Regional Associations of Grantmakers had a new vision, but an old name, identity and branding that did not reflect the transformation of the organization. The Forum hired MPK&D to develop a new name and brand identify, which included a new logo; revamping all of the key communications to reflect the new brand identity; and provide guidance and training to the staff and board using the new brand identity.
"We liked MPK&D's collaborative and adaptive approach to their work. We felt that they would work with us as a true partner, not just in a client-consulting firm relationship," Dave Biemesderfer, president and CEO, shared.
That process resulted in a fresh and exciting new brand identify which the staff and board fully supported and felt ownership of.
Biemesderfer says: "We have a new name and brand identity that we really love. The response to our new brand was immediate and overwhelmingly positive among our staff, board, members and partners. People comment over and over how our new name a look makes so much sense and feels so right, which is exactly what we were hoping would happen."

Niagara University, Lewiston, N.Y.
As the higher ed environment has grown more competitive, Niagara realized their business operations were not working at their full potential. Their systems and processes were manual and outdated and they weren't being proactive about innovative initiatives to advance the institution. They contracted with MPK&D to conduct an operational assessment of the financial management function and offer recommendations.
Mary E. Borgognoni, senior vice president for operations and finance, explains: "Unlike other consultants, working with MPK&D felt easy and comfortable. They weren't threatening or condescending, and they worked as part of our team, which put our personnel at ease. What could have been a difficult or painful process was instead enjoyable and productive. Although, they weren't afraid to pull any punches. They gave us honest and direct feedback, which is exactly what we needed to hear. [They] gave us a concrete roadmap with very clear steps to follow, which is exactly what we asked for."